Last updated on November 9, 2021
It is not hard to find fake / impersonating (pretending to be someone) accounts on TikTok platform, which has become popular nowadays. Out of the following Search results, the real account of Tom Cruise can be found easily by someone who knows the meaning or the value of the verified badge (blue tick appears in front of the user name), which signifies that TikTok has recognized that particular account as his original profile. Even this verified badge is applicable only for some public figures / celebrities in order to prevent the users being misled through impersonating accounts.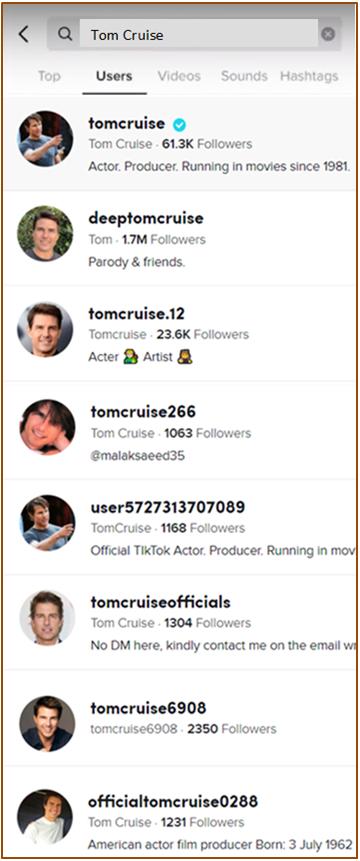 However, the act of impersonating other individuals or organizations so as to cheat the public is not allowed on TikTok. In other words, it is a violation of their Community Guidelines and TikTok encourages you to report such issues within the app as shown below.
Go to the profile of the fake / impersonating account you want to report
Tap on  (on top right of the screen)
Tap on the flag to "Report"
Select "Report account"
Further Select "Pretending to be someone"
Choose whom the profile pretends to be (either you or a celebrity)
Finally "Submit" the report