Last updated on January 9, 2021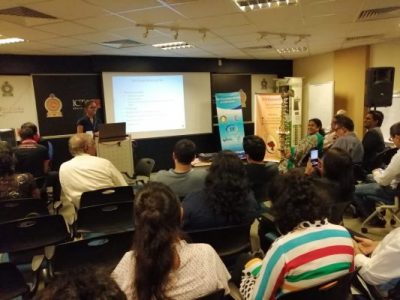 It was on the 02nd of July 2019, that LK Domain Registry – Hithawathi Project and Facebook Corporation officially announced their collaboration. Through this bond, 'Hithawathi' becomes a Trusted Partner of Facebook which is the major social media platform in Sri Lanka.
The event took place at the Auditorium of Information & Communication Technology Agency (ICTA) of Sri Lanka, Colombo 05 in the presence of Hon. Thalatha Athukorala – Minister of Justice, Prof. Gihan Dias – CEO of LK Domain Registry, Prof. Rohan Samarajiva – Chairman of ICTA, Ms. Shelley Thakral – Head of Policy Programs of Facebook for India, South & Central Asia, Mr. Senura Abeywardena, Public Policy Manager of Facebook for Sri Lanka, Mr. Yasas Vishuddhi Abeywickrama – Policy Programs Manager of Facebook for Sri Lanka and many other distinguished guests from various fields.
'Hithawathi' is a Supporter, a Listener, a Counselor to Internet users, especially for minors, teenagers, young girls and women educating the society on recognizing incidents related to Cyber harassment, Cyber stalking, Cyber blackmailing and Cyber bullying. Moreover, Hithawathi makes you aware of how to prevent such circumstances and is always there to guide you if such incidents occur.
This collaboration is quite significant for Facebook users among Hithawathi clients as that facilitates the communication between them and Facebook especially in the process of direct reporting. Furthermore, it will make the Sri Lankan society aware of how to use social media wisely and positively to bring benefits to everyone.