Last updated on September 12, 2023
Names and places mentioned herein are hypothetical.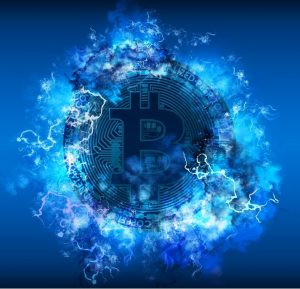 Ishan was an undergraduate student who didn't like to see unfair things happening in the society. He lacked the tolerance especially when the innocent, uneducated people were being fooled or exploited.
One day he received a chat via Facebook Messenger from a girl in the US. Her chats in weird Sinhala language (like online translated to) were even funny. However, he wondered why an unknown woman was interested in chatting with him. To understand the scenario clearly, he pretended to be silly.
She introduced herself as an agent who helped people earn profits through investments on Bitcoins and suggested Ishan to start making money as per the instructions she was providing.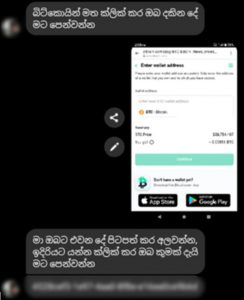 She sent him the link of bitcoin.com and asked him to show his screen. Then advised him to click on Buy BTC (Bitcoins) selecting US$1000. After that she sent a wallet address to get it copied and pasted on the relevant field. However, it showed an error of buying the Bitcoins on Ishan's screen. At that point, she asked whether Ishan had a visa (bank) card. Finally, Ishan questioned why she needed his bank card for her wallet address and stopped chatting with rage.
Subsequently, Ishan decided to inform Hithawathi about this cryptocurrency scam in which the scammers attempt to get the money of those who are desperately looking for easy cash on the internet to scammers' bitcoin wallets with keen deceptive stories. Hithawathi went through the chats carefully and reported the incident to Facebook. After a couple of days, he could find that the account had been removed. Moreover, Hithawathi appreciated him for identifying and sharing this scam which was a bit new to our country and promised to make the society aware of it through Real-time cases upon his request.
Precaution tips:
Think twice when something is too good to be true. It may be probably a scam. Take your time to understand things clearly or get help from a trusted party / someone who knows the subject better, otherwise it will end up losing your money.
If you can't believe that it is a scam, do not forget that there are limits of engaging in businesses through Facebook Profiles (they can be promoted officially in Pages as per the Community Guidelines of Facebook) and that rule is clearly violated in this case.
Report if you come across these types of scams through the app itself (selecting the reason as spam / scam). Contact Hithawathi for support, if necessary.
If a person or a website asks for your bank card details, think twice before giving out information.
These types of online scams or cyber-criminal complaints that are clearly mentioned with relevant evidence (links, screenshots, etc.) can be handed over to the CID, or sent to "The Director, Criminal Investigation Department, Colombo 01" by registered post. Additionally, you have the option of emailing the same via dir.ccid@police.gov.lk / report@cid.police.gov.lk