Last updated on December 2, 2022
Names and places mentioned herein are hypothetical.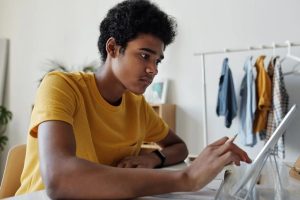 Ayesh was studying for a higher Diploma course at a famous institute. It was his dream to start higher studies at this institute since he had a target to continue up to the Degree after the higher Diploma and he very well knew that this institute would recommend him to a good working place too.
Time went by and Ayesh was able to make some new friends. His life was moving on with exams, assignments and he was quite busy. Whenever Ayesh got a break he was used to scrolling through his Facebook feed and Instagram feed as a way to wind down.
One day, one of Ayesh's school friends told him that someone named Ayesh messaged him and was chatting in a very unusual way. Ayesh was surprised. He thought that this was a fake account for sure. Ayesh was thinking about this and his friend who told him about this suggested him to talk to Hithawathi. Ayesh called Hithawathi and was instructed to report the account; the method of reporting was also introduced to him. After some time Ayesh got to know that account had been taken down by Facebook.
After some days Ayesh got to know that another fake account had been created using his name, personal details and pictures to impersonate him. He understood that this fake account carried out inappropriate conversations with the intention of damaging his name. Once again he reported this account as per the previous instructions given by Hithawathi.
With time Ayesh realized that fake accounts were continuously created one after the other using his name and pictures. These fake accounts were used for very bad talks and sexting with his friends. When Ayesh got screenshots of these messages from friends, some even asked what's wrong with him. He could not bear it any longer. He was mentally tortured and could not even go to college. His friends at college mocked him and he was cornered by his batch mates.
Things were a little too much for Ayesh, who couldn't find any solution and at times he felt like harming his own life.
One afternoon, he recalled Hithawathi who helped him to take down the fake account created some time back. He called Hithawathi and told about all the troubles he was facing with the depressed feeling to commit suicide to get rid of all these problems.
Hithawathi listened to him very carefully and asked him to stay strong. Then he was directed to Special Mental Health Hotline (1926) for psychological counseling. Afterwards Hithawathi took necessary steps to write to Meta (Facebook) due to the delay in their response to the initial reporting done thru the app. As a result, Facebook actioned immediately to remove all the fake accounts created to impersonate him in order to save his life from "Self-Harm".
After some time, with the counseling support and the guidance provided by Hithawathi, Ayesh was able to lead his normal life back. He thanked Hithawathi for saving his life.