Last updated on September 19, 2022
Names and places mentioned herein are hypothetical.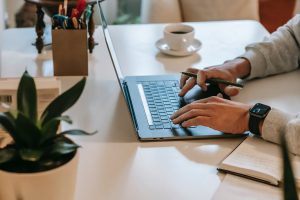 Savinu was looking for jobs after he got his A/L results. He was applying for various jobs and one fine day he got a message on WhatsApp from a job he applied.
Savinu was very excited about this and he asked them more information. He had to face an online interview as well. They told him that he has to start work on the next day and after one month, he would be given the offer letter.
Savinu was happy and he agreed to work with them. After a few weeks Savinu got a call from his bank and they said that a lot of people have been depositing 5000 rupees at his savings account.
Savinu thought about this and recalled that it was only this new company he shared his account details with, hence he asked the company about this.
The company officials asked Savinu to install an app on his phone and convert all the money in his account to crypto. By this time there was a sum of Rs. 11 million in his account. Savinu did as the company instructed him.
The next day, no one from the company contacted Savinu for any work. And when he tried to contact them, they were not reachable. After about one month Savinu tried to contact them again as his salary was due. However he couldn't reach them.
Savinu was so lost and contacted Hithawathi through Whatsapp. He told them what happened to him. Hithwathi explained Savinu about money scams and Savinu realized about the fraud he went through. Hithawathi further told him to lodge a complaint at the CID – Social Media Unit with relevant proof.
Precaution tips:
Do a thorough background research on the company you are being hired to.
Be mindful about job scams as they are very notorious these days.
Think twice and thrice if something is 'too good to be true' as scams come to you in a pretty attractive manner.
Cyber-criminal complaints that are clearly mentioned with relevant evidence (correct links, screenshots, etc.) can be handed over to the CID, or sent to "The Director, Criminal Investigation Department, Colombo 01" by registered post. Additionally, you have the option of emailing the same via dir.ccid@police.lk