Last updated on February 27, 2023
Names and places mentioned herein are hypothetical.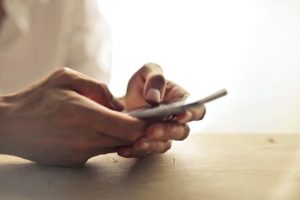 Prabash was hanging out with his friends after work and they didn't feel time passing by. It was dark and closer to midnight. Prabash and three of his friends thought of taking a trishaw to reach home. They all got packed in one trishaw and dropped each friend. Prabash was sitting at the edge.
After dropping all the friends and coming home Prabash wanted to call his friends and tell them that he got home. He searched everywhere for his phone but it was not there. Since he was a bit drunk too he gave up looking for his phone and slept.
Next morning as soon as Prabash woke up, he started to look for his phone again, but it was nowhere. He realized that he had lost his phone last night. He was a bit upset as it was a brand new smart phone which he bought recently for Rs.40,000/-.
Prabash told this incident to his sister who was really worried about it as he had logged into all his social media accounts and the email account. She told him to go to the police and make an entry, but his response was;
"I don't have time to waste at police stations and even it's my fault for being careless. I'm going to buy a small phone"
However, Prabash's sister didn't want to give it up easily. That evening when she was checking her Facebook notifications, she saw an update from Hithawathi FB page. She just sent them a message asking if there is a way to find a lost phone.
Hithawathi guided her to ask her brother to lodge an online police entry via https://www.ineed.police.lk/ providing the required information. Prabash was not interested in filling the online forms either. He simply said,
"I don't understand how to do them"

He just wanted to forget about it whereas the sister preferred to try following that web portal (link).
Accordingly, Prabash's sister got all the needed information such as the NIC number of Prabash and IMEI numbers of his phone from the stickers of the box that covered the phone. She filed an online complaint successfully via https://www.ineed.police.lk/.
Meanwhile Prabash bought a small phone and was using it. After about 6 months Prabash got a call from the police. He was surprised as he did not bother to lodge a complaint. He remembered that his sister made the online entry using his details.
Prabash went to the police station and collected his phone. He thanked the police for the hassle-free online service.
There was another girl waiting at the police station. She had bought Prabash's phone at a lower price from a guy, whose job was selling different types of things daily for living. She was trembling nervously. Police officers advised her not to fall into traps like this in future as keeping or buying stolen goods is illegal.
Ultimately, Prabash's sister who was really happy about the proper guidance of Hithawathi thanked them a lot for the support given for free in this regard.
Precaution tips:
Complaints regarding lost phones can be lodged online via https://www.ineed.police.lk/ instead of going to the police station.
Always keep the IMEI (International Mobile Equipment Identity) numbers of your phone / devices.
Be careful when you purchase used electronic goods at lower prices.