Last updated on March 1, 2022
Anyone who created a Facebook account knows about Facebook Community Standards, which ensure the safety of that platform to a certain extent. Accordingly you agree to Facebook Terms and start using it.
What happens when your account fails to follow Facebook Terms? Facebook may simply disable it. Here are some instances that you get a message saying that

Impersonation / pretending to be someone
Using a fake name
Promoting harassment
Posting content that doesn't follow the Facebook Terms
Behaviour that continuously violates Facebook Community Standards
However, if you think that your account has been disabled by mistake, you may request a review via this form within 30 days.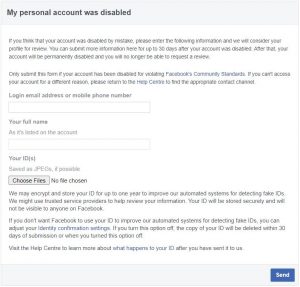 Please note that depending on the severity of violations, Facebook may neither issue a warning before disabling nor help restoring the account.