Last updated on December 6, 2022
Tinder app is a popular free app designed for single people who look for love and want to start dating. Though it is known as a place to meet someone's next best match, the app may be misused by spammers or people with bad intentions. Therefore, Tinder has given the option to report such accounts to ensure its safety.
Reporting something that happened on the app
Report in the App

While swiping
Open the user's profile > Scroll down and tap report
From your match list
Select the user to open the message screen > tap the user's photo to open their profile > scroll down and select Report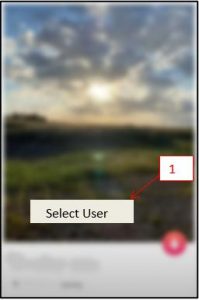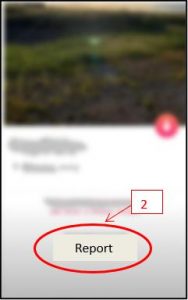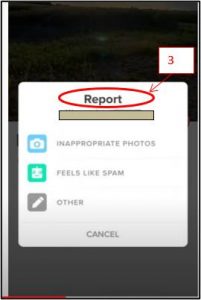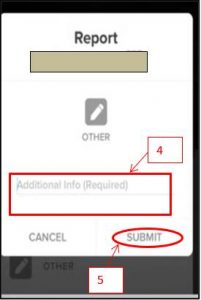 Report via email
Tinder encourages to immediately report any behavior that violates their policies or Community Guidelines. To send a report via email, you can get in touch here and include the following info:
The reason for the report
The exact name, age, bio, and photos that appear on the profile that you are reporting (screenshots are best)
The user's location, phone number or email address (if known)
Reporting accounts that impersonate
If someone pretends to be you on Tinder, you may report using this form. You should select "Someone is impersonating me" from the dropdown menu and add all the requested information, including any details you have about the impersonator's profile.
If someone you know is being impersonated, please encourage them to contact Tinder team using this form. Apart from that, you also can report the profile directly on behalf of the known person by selecting "Someone I know is being impersonated" under "What are you reporting".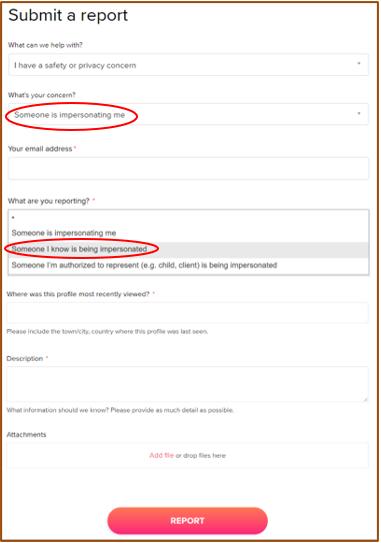 Source:  https://www.help.tinder.com/hc/en-us/sections/115001143883-Report-a-Safety-Concern-or-Incident