Last updated on December 23, 2022
Names and places mentioned herein are hypothetical.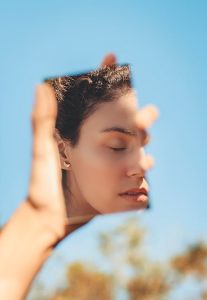 Financial difficulties and tough times were a common problem for almost everyone during the last couple of years due to the pandemic. Heshani was facing the same. She was looking for various ways of earning money, but nothing really worked for her.
She was thinking day and night about this. At times she felt to try for a small job abroad, but that too needed a lot of money. One day when she was on Facebook, she saw an advertisement which looked very appealing to her.
"Facing Financial Problems these days? Want to increase the income of your family and support them? Don't hesitate to DM us"
Heshani did not think twice, she felt like going for this. So she messaged the advertiser.
Heshani: Hello Sir, This is regarding your advertisement on FB
Advertiser: Oh!!!! Yesssss… So, Straight to the point… this is your job.. There is nothing hard in this job darling and you'll definitely like it..You just have to send us some sexy pictures with natural curves..We're affiliated to a foreign market where there's a high demand for Asian girls' figures.. You know what I mean..
Heshani: mmmmmmmm… I thought you advertised about jobs
Advertiser: So this is a job…You can earn very well. We will transfer a good amount for each picture you send. Think about it and get back to me. Don't be too late.. because there are a lot of girls WAITING !!!!
Heshani: I will think about this
Heshani was frightened. She knew this was not the way but she did not have an option either as each day was becoming difficult. She didn't want to be a dependent anymore.
So she contacted that person and sent some intimate images as he requested. They got her bank account details saying that she would be paid weekly for each and every image.
Days passed by, money was never deposited into her account. She was feeling hopeless. One day she got a message from that man. She felt happy as she thought he wanted to send her money but what she saw shocked her.
Advertiser: We will send these pictures to adult websites and share them everywhere. You won't be able to step out of the house. You can STOP this only by paying us LKR 100,000/- immediately!!!!!
Heshani was frightened, depressed and she did not know what to do. She was blank for a moment. However she recalled about Hithawathi which she saw through a FB post and contacted them right away.
Hithawathi asked her to be strong and directed her to Women in Need (WIN) for legal support as she was being blackmailed. She was also asked to contact Hithawathi again for technical assistance to report the Advertiser's profile upon the advice of WIN. To make her further strong mentally she was directed to Sumithrayo as well.
Precaution tips:
Almost every advertisement on Social media stating about quick money is highly likely to be a fraud or an illegal activity. So be very careful on this.
Never share intimate images / videos with anyone as once they're leaked for some reason it is going to be a long process to recover.
Contact Hithawathi for support in reporting and removing if your pictures / videos or any other content that harms you are published on the internet.
Free Legal advice on any form of harassment and counselling service can be obtained from Women in Need (WIN)
Contact Sumithrayo if you feel that you are mentally down due to this type of an incident.