Last updated on September 12, 2023
One day Nirmala called Hithawathi crying and begging to save her son. The agent let her cry for a while to ease her pain. Then asked for more details from her.
Nirmala: Please help me miss, I got your contact from one of my friends
Hithawathi: Yes Nirmala, what is your problem, please tell us.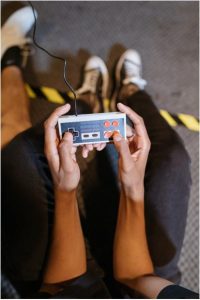 Nirmala lives in Mawathagama. She has a son called Manoj, who sat for A/L exam very recently. Nirmala enrolled her son in a computer class. Two months later, physical classes were discontinued due to the COVID lockdown. All lectures were conducted via Zoom. Nirmala even bought a new phone for him to do his lessons.
As time passed, Manoj got addicted to play online games. He used to play games continuously and especially he was very keen to play a game called "Free Fire". He got registered to this game using his Facebook account. Very soon he became a master in this game and achieved the highest stages. At this point his FB account was very strong as per the "Free Fire" game rules. One of the key facts that Manoj didn't know was that there was a hidden gambling activity under this; when you keep playing and go ahead towards higher levels, the player has to pay some money to continue the game. Manoj paid money using his mother's debit card with her permission. By the time of this incident happened, he had paid almost over Rs. 20,000/-.
One day Manoj received a message from an unknown person and shared his contact details with him as the unknown person meant that he is interested in buying Manoj's Facebook account for the worth of LKR 20,000. Further this person said that he was on his way to the bank to do the deposit and the transaction would happen soon. Meantime he was able to get all the FB login details from Manoj. Once he received all login details he disconnected the call. Within few seconds that person changed credentials and Manoj was unable to access his account anymore. Unfortunately Manoj didn't receive a single penny to his account. In other words, Manoj's FB account was hacked because of his carelessness.
Nirmala was so angry with her son and gave the phone receiver to her son to explain the story to Hithawathi. Manoj confessed how he got addicted to online and mobile games that ended up losing his FB account which contained some of his personal details, photos, videos and a lot of contacts. He said that he never thought such an incident would happen to him and was really shocked.
Hithawathi agent explained about the social engineering technique used by the hacker in this case. Manoj understood the scenario and said that he learnt a good lesson. Further he stated that he will be more cautious in future and not involve in such activities. According to FB guidelines, Hithawathi agent instructed him to report the incident and try to recover his Facebook account through the tools / links provided by FB. Additionally, he was Directed to CID – Social Media Unit to lodge a Cyber Criminal complaint.