Last updated on July 20, 2023
Volume 04 Issue 07- 20th July 2023

Hithawathi
Monthly Bulletin
Black Hat, White Hat and Grey Hat

Who are Hackers and what is the Hat system?

Hackers are individuals who have the knowledge and expertise to breach cyber defence systems.
In cybersecurity, hackers are classified as per a Hat system which came from old cowboy film culture where the good characters usually wore white hats and the bad characters wore black hats.

Creator Economy Could Reach Half a Trillion Dollars By 2027
https://www.digitalinformationworld.com
Fileless attacks increase 1,400%
https://www.helpnetsecurity.com
US college cyberattack probe reveals 700K affected
https://cybernews.com

The Ultimate List of Remote Work Security Tips [2023]
1) Stay savvy about cybersecurity risks
2) Use your company's data protection plan
3) Use an antivirus solution
4) Enable Multi-Factor Authentication (MFA)
5) Use a Virtual Private Network (VPN)
6) Use a cloud service
7) Properly configure the cloud service
8) Secure your webcam
9) Protect your home Wi-Fi network
10) Be cautious when working on public Wi-Fi
11) Make your Zoom meetings safer
12) Secure your passwords
13) Protect your online bank accounts
14) Prevent email phishing
15) Keep your software up-to-date
16) Separate work from private life
17) Keep family members away from work devices

Vulnerability in Fortinet FortiNAC
A remote code execution vulnerability was identified in Fortinet FortiNAC.
www.slcert.gov.lk
Critical Vulnerability in Medtronic Paceart Optima System
The Critical vulnerability could allow an unauthenticated user to perform remote code execution or create a DoS condition.
https://digital.nhs.uk
DoS and DDoS Attacks against Multiple Sectors
CISA is aware of open-source reporting of targeted denial-of-service (DoS) and distributed denial-of-service (DDoS) attacks against multiple organizations in multiple sectors.
https://www.cisa.gov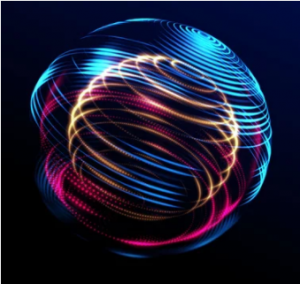 Cyber News
A proper mechanism to regulate local and foreign businesses conducted via Internet is essential
The need to create a common business environment for local companies and international companies engaged in business activities centered on the Internet was emphasized here.
https://www.parliament.lk
Twitter's future is in doubt as Threads tops 100 million users
The launch of a rival app from Meta could prove to be the final straw.
https://edition.cnn.com
Onmax DT directors have Rs.790 Mn in their accounts – CID
The CID said that they publicised that a person who invested the maximum package in this pyramid scheme can get more than USD 50 per day in returns or dividends.
https://www.dailynews.lk
The rise in cyber extortion attacks and its impact on business security
Charl van der Walt, Head of Security Research at Orange Cyberdefense, discusses cyber extortion attacks and their expansion to new regions.
https://www.helpnetsecurity.com
The Resiliency Initiative got invited to participate in Digital Rights Asia-Pacific 2023
Recognizing Hithawathi across Asia to tackle intolerance and promote peace through social media.
https://web.facebook.com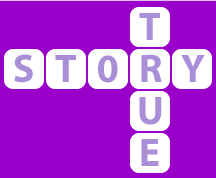 Seven similar faces and her agony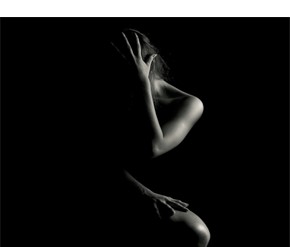 Thilini was doing a part time job while studying. She was very good at baking so her part time job was making cupcakes. Thilini even had a Facebook page to promote her small business. She used to take various pictures from her phone of the cakes she made and used them in promoting her page. Her page had a good number of Followers and she was a bit famous around her town.
Awareness Programmes
Past Events:
Introduction to ICT industry & awareness on Cybersafety
AT PASSARA CENTRAL COLLEGE
An introduction to ICT industry along with awareness about identifying and mitigating Cyber Harassments was held on 13th July 2023 at Passara Central College. This was conducted by Hithawathi in collaboration with Axiata Digital Labs (ADL). Advanced Level students, teachers and principals of schools in that area and representatives from Zonal educational office participated in this event.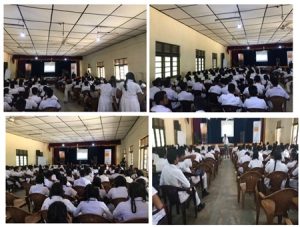 To participate in future webinar sessions and learn about cyber security, please join our Viber or WhatsApp group by clicking the icons below: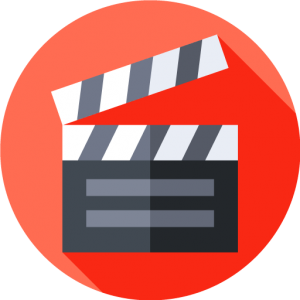 Movie Hint

Tobor the Great (1954)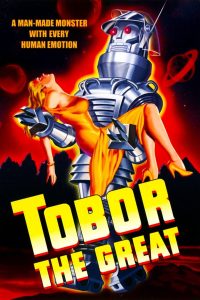 This science fiction film tells the story of a young boy, his grandfather, and his best friend — who just so happens to be a robot — as they work together to stay safe from the group of communist agents on their tail.
GADGET
Neopixel Ring Shield for Nicla Sense Me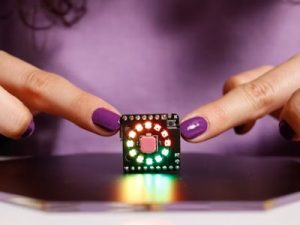 Light up your wearables with this Nicla Sense Me LED shield!
https://www.hackster.io
Comment the correct answer and win a data card from Hithawathi by visiting our Facebook page every Friday, Saturday & Sunday.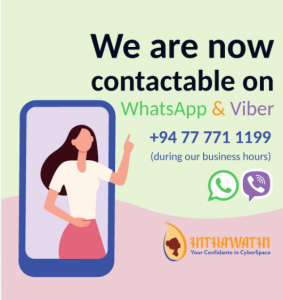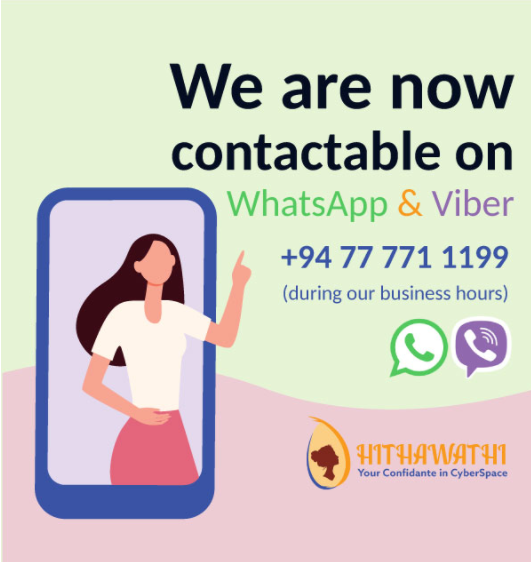 Hithawathi WhatsApp & Viber
No. +94 77 771 1199
(during our business hours – Weekdays 08.30 am – 05.00 pm
Saturdays 08.30 am – 12.30 pm )