Last updated on October 5, 2022
Another misuse in Facebook – Be alert…
You may be the next prey!!
As Hithawathi has educated you before, here's another real life example for the misuse of Facebook. A case where someone maintains a Facebook account using your pictures and information without your awareness. Here is an abstract of the article published on 'Sandella' Magazine of Lankadeepa Newspaper on 07th April 2019.
Even if you are a celebrity or not, though you are a woman or not, Hithawathi would like to emphasize that anyone may have this risk. Someone may use this as a mode to insult your character, personal life or leave a black mark in your profession.
Find more information from here to be educated.
Find more information from here to be on alert.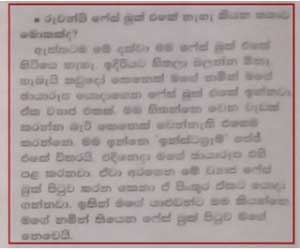 Translation
What's this story you say that you are not on Facebook?
Actually I wasn't on Facebook so far. Need to think of it in future. However, someone maintains a Facebook page under my name with all my pictures. That is fake. I think that person may not be able to do any other work. I'm only on Instagram, where I post my photos daily. That person takes those photos and maintains the said page. So, I want to tell my friends that the Facebook page created for my name is fake and please do not be cheated.(Ruwangi Rathnayake)
Contact Hithawathi
for more information
www.hithawathi.lk
help@hithawathi.lk
011-421 6062