Last updated on July 9, 2021
Hithawathi is organizing a webinar for school teachers
Hithawathi is organizing a webinar on "how to teach online safely" on Saturday, 03rd of July from 3.00pm to 4.00pm via Zoom in collaboration with ICTA. Representatives from SL CERT, Ministry of Education will be participating as resource persons. To register for the webinar follow the link below.
Date : Saturday, 03rd July 2021
Time : 03.00pm -04.00 pm
Medium : Sinhala
Registrations: https://bit.ly/3cQN3ou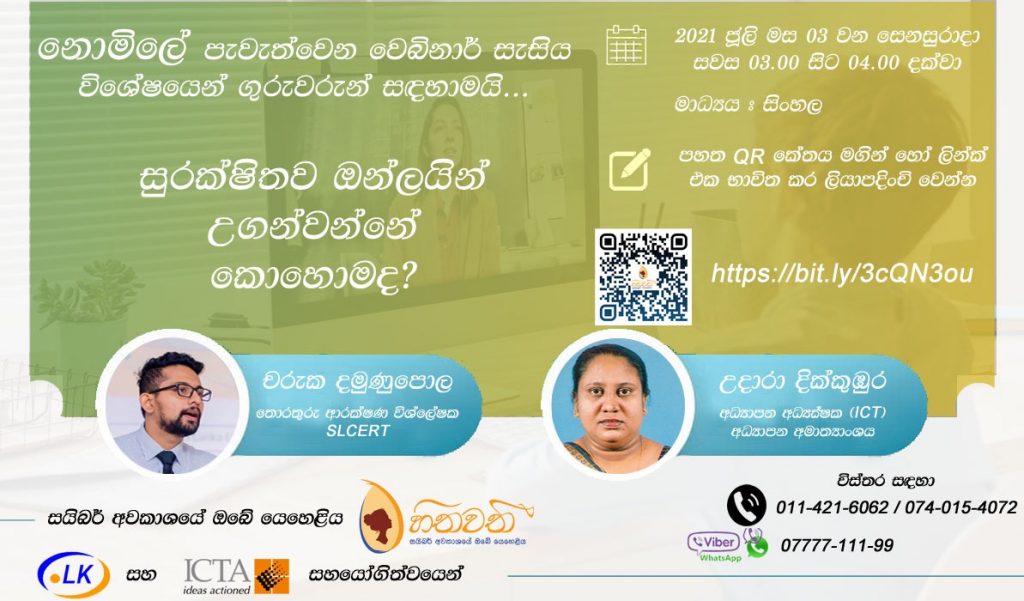 Panelists :
Charuka Damunupola from SLCERT
Udari Dikkumbura from Ministry of Education.
Main topics to be covered:
Mr. Sampath Sri
Project Coordinator
Hithawathi Project
Ms. Sachini Shakila
Project Manager Hithawathi Project
What are online teaching methods
What are the security features of them
Mr. Charuka Damunupola
Information Security Analyst, SLCERT
Resources :
Webinar Video: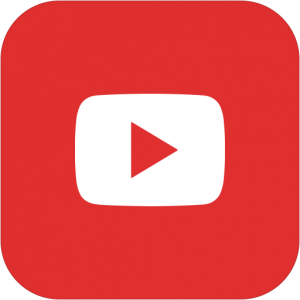 Online teaching tools and methods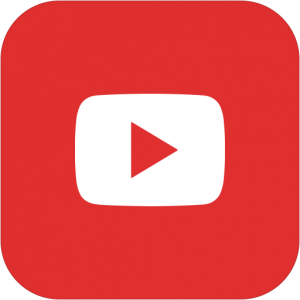 Specific security features of them
Zoom settings : https://www.hithawathi.lk/help-centre/zoom-app-security-settings/
Initiatives by Ministry of Education
Ms. Udara Dikkumbura
Director (ICT)
Ministry of Education
Mr. Charuka Damunupola
Information Security Analyst, SLCERT
Resources :
Webinar Video:



Ethical aspects in online teaching
How to create a proper password:
https://www.hithawathi.lk/help-centre/cyber-security-tips/selecting-a-strong-password-and-protecting-it/
Mr. Aminda James
Senior Manager
Information and Communication Technology Agency
How to get help for cyber security issues while online teaching
Mr. Charuka Damunupola
Information Security Analyst, SLCERT
Resources :
Webinar Video:



Safety tips to follow when teaching online
Connect Hithawathi hotline
Telephone: 011 421 6062
Web: www.hithawathi.lk 
Facebook page :  www.facebook.com/hithawathi
Viber /whatassp: +94 7777 11199
Mr. Charuka Damunupola
Ms. Udara Dikkumbura
Resources :
Webinar Video:



Q & A session
How to control/observe children on the internet
https://www.hithawathi.lk/help-centre/parents-guide/
https://www.hithawathi.lk/si/help-center-si/childrens-guide-si/
How to identify fake websites?
https://www.hithawathi.lk/help-centre/knowledge-base/you-decide-whether-it-is-a-fake-or-a-real-weblink-url/
Vote of Thanks and programme wrap-up
Resources :
Webinar Video:



Program End
Join Viber & Whatsapp group
whatsapp :https://chat.whatsapp.com/FiBOrD4pC9HJyQkN1raAHm
Viber : https://invite.viber.com/?g2=AQA%2Bj8OZnjI7a010ZaFqSd3%2B3a72CGw3ohYuA%2Bd8Gi2CnK7Tv35lHhFbxqY30irR
Hithawathi newsletter subscribe : https://hithawathi.us18.list-manage.com/subscribe?u=c80d52cd79f738a63081f5519&id=80641049f6
LK Domain Registry Training Division :
http://training.domains.lk/