Last updated on January 22, 2021
Names and places mentioned herein are hypothetical.
Shimmi is a social media user. Recently she was checking some clothes shop on Facebook and wanted to know the price of a particular dress. She typed her phone number in the comment section and asked the shop owners to get back to her.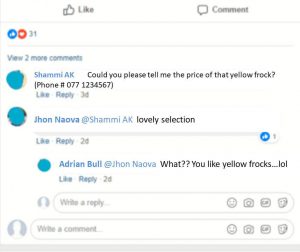 It was a very bad day for Shimmi. She's getting more and more unnecessary calls. She was very shocked that her best friend Anusha called her and told that she received a link through Facebook, once she opened it, she showed that Shimmi's photo and her phone number is in the site with unnecessary details.
Precaution tips: Do not share your phone number in public forums. If you want to share your phone number details, please use personal message services provided by the social media platform itself