Last updated on November 22, 2022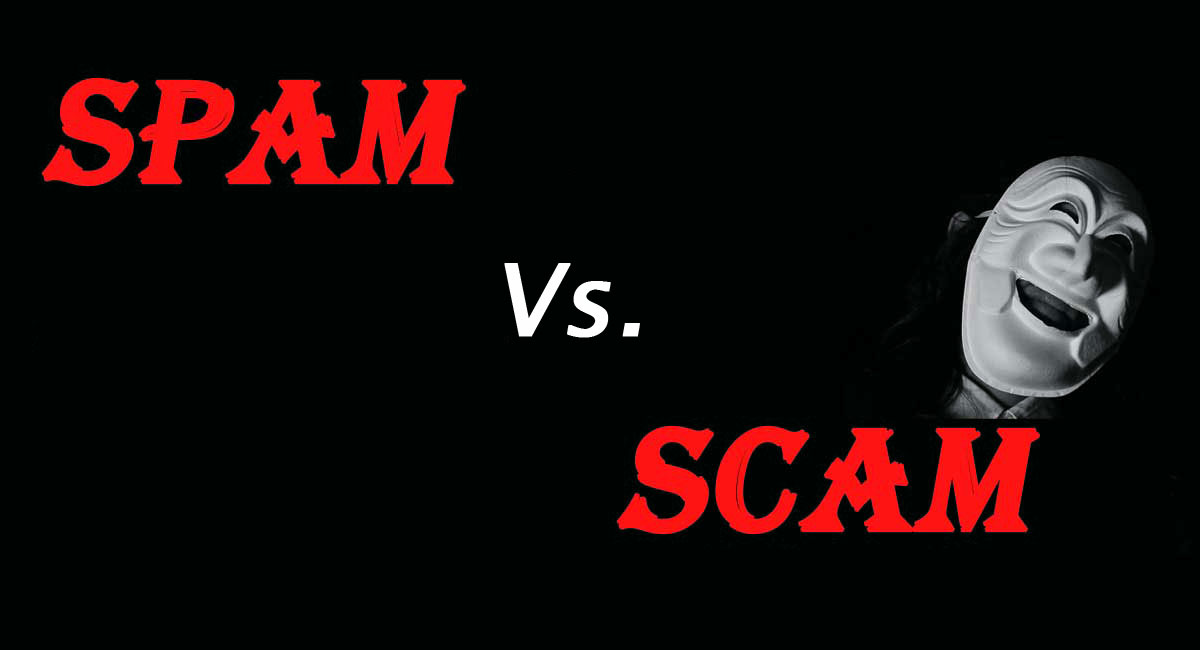 Spam

vs.

Scam
Spam (Junk) consists of irrelevant, unwanted and unsolicited marketing emails, posts and messaging.
Scams consist of tricky, misleading calls / chats / SMS and fake posts / posters, newspaper ads with malicious intent in order to cheat someone.
Spammers do not want to steal your information or con you. They simply try to blast information randomly to as many people as possible.
Scammers show you opportunities they KNOW that do not exist in order to deceive people out of their information and/or money.
Their goal is for a sale through unwanted or unsolicited communication.
Their goal is to be benefitted by cheating someone through fraud.
It is less scary than fraudulent or scam behavior. Though it may not be harmful, it is definitely an annoyance.
This is harmful and will end up causing troubles / losing money or other valuable things.
You may get them mostly via email, from an advertising company that promotes goods or services or the workings of a con artist.
Senders of spams do not even know who their recipients are, but they just engage in sending bulk messages and wait for their victims to do the rest.
This fraudulent schematic trick is cleverly made successful by gaining the confidence of the victim.
Many online scams are set off using spams. That means a spam is one of the many tools for a scam.
Examples of Spam
Examples of what people are scammed off

Bulk messaging marketing materials to convince — "You are the lucky Winner of $10000 and a brand new Apple device"
Advertising Low-quality employment opportunities — "Enjoy working from home and get paid $100/hr"
Social media expert — "Get 5000 Facebook friends, Twitter / Instagram followers"
Free gadgets — "You've been chosen to receive a free iPhone 7"
Weight loss — Robocalls of "Lose 10lbs in a week with a new formula"
Male power — "Make it grow bigger & get a free dragon tattoo on it"
Nigerian prince — "I am a crown prince with 5,000 acres of a land"
Porn — "Teen webcam girl gets naked and shows her beauty
Astrology / Psychic related cons — "Visions of your rich future has been seen – pay to receive your lucky numbers"
Telemarketing — SMS / phone call claiming you've won an acre of land.
Romance — "I saw your profile & couldn't stop falling in love with you"
Hoax virus warnings – "Malware found, Install this virus guard NOW"
Hoax charity appeals – "Details of Children's home is attached herewith"
Chain mails – "Forwarding this to 10 friends will bring you good luck"

Identity – requesting personal information, Passport details
Credit / Debit card details – for online fraudulent deals
Money – demanding immediate payment or presenting a bargain or free price
Bank information – only the bank account number is enough to be hacked
Email passwords – directing to other tabs where it is necessary to proceed
Social media accounts – persuading you to enter user credentials to continue
Device account credentials – indicating that something is scary and urgent
Land documents – grabbing them for some reason to prepare fake documents
Employment opportunities – posting jobs with unusual salaries and easy job descriptions that are meant to lure in people to defraud them
Threats to life, arrest or other – forcing you to make different payments in order to save your life or settle outstanding bills.
Investment – tricking you into parting with money on fake promises.

Spam is a message that is convincing you to click on it when you see it.
You believe in a spam and click on it but fail to achieve the intended purpose means you have been scammed.
Even though an effort is made to distinguish spam from scam in the above table, scam may come to you in the shape of spam which contains misspellings designed to avoid spam filters, attachments, links, offers seem too good to be true, contrast between subject line and contents and most of the time a closing / due date showing urgency thereby making you panic.
The following pie chart depicts what could be primarily included in spam in the year 2019. Herein the percentage of scam is considerably high; 2 out of 5 are scam. This ratio is different from country to country depending on the restrictions and awareness level.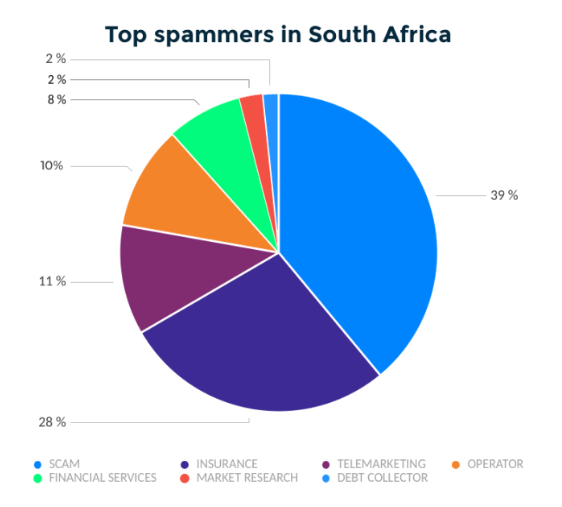 According to truecaller insights, below countries have been affected a lot by spam calls and SMS last year. What should to be kept in mind is that these types of annoying spam calls, SMS or emails may contain harmful scam too.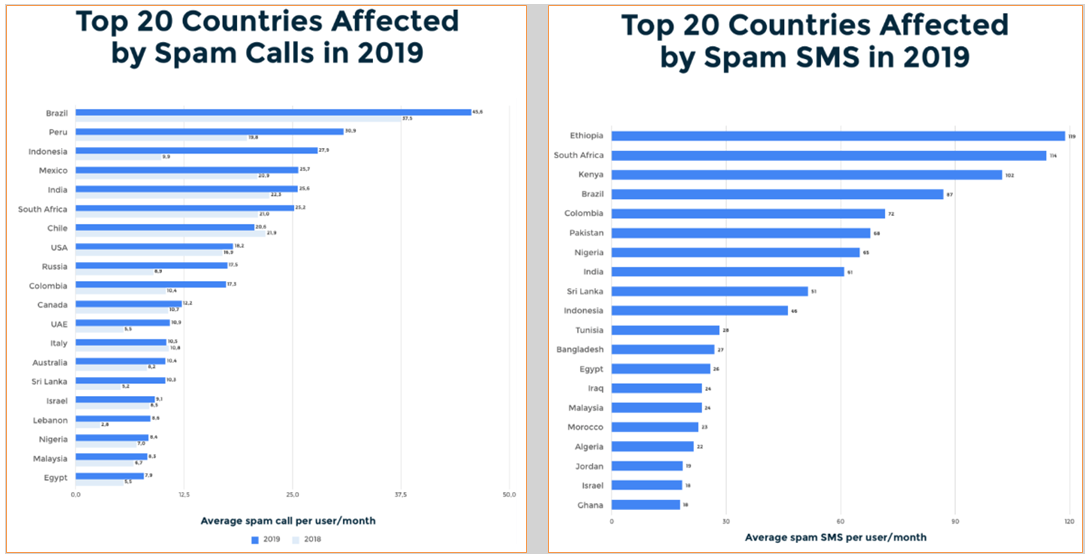 Therefore, it is very essential to follow instructions to be secure and safe from spam / scam making sure to run an up-to-date anti-virus software on your device, blocking spam or even maintaining a separate email address to deal with non-personal stuff.
Learn more about how to be safe in cyber-space.
Reference
https://hiya.com/blog/2016/08/17/unwanted-calls-explained-difference-spam-scam/
https://www.getsafeonline.org/protecting-your-computer/spam-and-scam-email/
https://support.indeed.com/hc/en-us/articles/360040122351-Spam-vs-Scam
http://www.afd-techtalk.com/spam-scam/#:~:text=In%20other%20words%2C%20a%20scam,many%20tools%20for%20a%20scam.
https://truecaller.blog/2019/12/03/truecaller-insights-top-20-countries-affected-by-spam-calls-sms-in-2019/
https://www.informit.com/articles/article.aspx?p=397914
https://www.informit.com/articles/article.aspx?p=1234199&seqNum=6